Cultural Resources Staff
Our highly skilled cultural resources staff has specialized training in all facets of Cultural Resource Management, and understand the specifics of regulations governing cultural resource compliance throughout the region. We have the ability to offer specialized assistance to you in archaeological survey; historic property evaluations, tribal consultation, cultural resource monitoring and we maintain strong relationships with local tribes and agencies.
Our Principal Investigator, Senior Archaeologist and Architectural Historian all exceed the Secretary of Interior Standards for Professional Archaeology/Architectural History as stipulated in 36 CFR 61, and our Principal Investigator is also a Registered Professional Archaeologist (
www.rpanet.org
). Our survey crew staff is supervised by individuals meeting or exceeding these qualifications. Resumes/vitaes of project staff available upon request.
---
Sarah J. Amell, M.M.A., RPA - Principal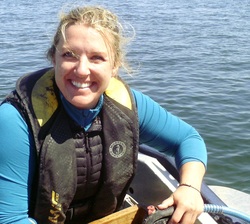 Sarah J. Amell (
sarah@aquaterracrc.com
) serves as Project Manager, Maritime Archaeologist and Principal of Aqua Terra Cultural Resource Consultants. Sarah is native to the Southern Puget Sound area and began her career in cultural resources locally, serving as the Lab Manager and Site Director for Mud Bay Site 45TN240 in Olympia, Washington. Sarah received her Bachelor of Arts degree from TESC in 2003 and her academic focus was on Native American Cultural Studies and Theoretical Contributions in Marine Archaeology. Sarah was awarded her Master of Maritime Archaeology from Flinders University of South Australia in 2006. She had the privilege to work on many terrestrial and underwater archaeological sites in Queensland and Tasmania, including shipwrecks, historic jetty surveys, penal colony camps and with Aboriginal Australian communities. The subject of her thesis was site distribution of inundated archaic sites in the southern Puget Sound region.
Sarah spent three years working with the Washington State Department of Transportation (WSDOT) as the Cultural Resource Specialist-Principal Archaeologist assigned to the 1.6 billion dollar
Tacoma HOV Program
construction projects, conducting and supervising the cultural resource review, testing and evaluation for over 79 miles of HOV lane expansion in Pierce County, Washington within the
Puyallup Tribe of Indians
Reservation lands. She also served as the Cultural Resources Liaison for WSDOT and the United States Army Corps of Engineers, as well as lending expertise to numerous other WSDOT projects within every region, ranging in size from small project exemption reviews to the large bi-state
Columbia River Crossing Project
. She has overseen completion of cultural resource assessments for a combined total of 88 miles of highway pavement, wetlands, right-of-way and Joint Base Lewis McChord (JBLM) lands throughout Pierce County, Washington on behalf of the Tacoma/Pierce County HOV Program projects and most currently the
I-5 JBLM Corridor Widening Projects (WSDOT)
. Prior to this, Sarah spent time doing project management and archaeology for a Seattle based environmental consulting firm, where she worked on local agency projects and also spent extensive time conducting archaeological survey throughout
Oregon
and
Wyoming
.
Sarah's strengths in archaeological research and cultural resource management are assisted with her advanced certifications in open water diving and navigation. Sarah specializes in Government to Government consultation, faunal analysis and agreement writing (Memorandum of Agreements and Programmatic Agreements to mitigate effects to historic sites).
---
---
Jennifer Chambers, M.A. - Senior Archaeologist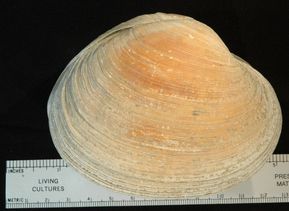 Jennifer Chambers, M.A. - Senior Archaeologist Jennifer Chambers (Jennifer@aquaterracrc.com) is a Registered Professional Archaeologist and grew up in Yakima, Washington. Following graduation from high school she enrolled at South Puget Sound Community College (SPSCC) in Olympia, Washington where she was inspired to pursue a career in archaeology after attending field school at the Mud Bay (Qwu?gwes) archaeological site 45TN240 in Olympia, Washington.

After acquiring her Associates of Arts degree, Jennifer enrolled at The Evergreen State College (TESC) where she interned as a field supervisor / lab manager for SPSCC. As an intern, Jennifer was responsible for supervising current field school students; and, for processing and inventorying the tens of thousands of artifacts collected from the Qwu?gwes archaeological site.

Jennifer received her Bachelor of Arts Degree in Archaeology from TESC and then completed her Master of Science Degree in Wetland Archaeology and Landscapes at the University of Exeter in England. The focus of her Master's thesis was analysis of the shellfish collection from the Qwu?gwes archaeological site.

Since 2004, Jennifer has worked in cultural resources management as a project archaeologist in the Pacific Northwest. She is experienced in small and large scale project management for private, State and Federal contracts; archaeological field investigation; archaeological monitoring; contractor and tribal relations; and, Washington state and federal archaeological laws including Section 106 of the National Historic Preservation Act (NEPA), State Environmental Policy Act (SEPA) and Executive Order (EO) 05-05.
---
---
​Kenny Gunn, M.S., – Architectural Historian
Kenny Gunn (Summit Solutions Group, LLC) provides architectural history expertise to ATCRC clients. Kenny holds a Bachelor of Science (B.S.) degree from Philadelphia University in Architectural Studies and a Master of Science (M.S.) degree from the University of Oregon in
Historic Preservation. In addition to a graduate degree in Historic Preservation, he has held several different positions and completed a variety of projects related to the preservation and protection of historic resources in the Pacific Northwest.

Gunn's Historic Preservation career began in Philadelphia working for a non-profit that owned and operated several historic house museums in the City. Following that, he worked for the Oregon State Historic Preservation Office (SHPO) in Salem, Oregon, initially as a full-time intern while continuing as a temporary and contracted employee researching, surveying, and documenting historic resources all around the state of Oregon over a two-year stretch. His work at the Oregon SHPO included among other smaller projects the completion of a Reconnaissance Level Survey (RLS) of Settlement Era Homesteads constructed between 1840 and 1865 in the Willamette Valley and a complete re-survey of the Jacksonville Landmark Historic District in Jacksonville, Oregon, which included over 800 resources. Every resource that Gunn has ever completed included a final survey report showing the results and summaries of the data, survey maps showing eligible and non-eligible resources, and a presentation to be given to the City in which the survey was conducted as part of the contract.

Gunn is responsible for authoring and completing a number of different National Register of Historic Places nominations as a private consultant and spent over a year working for Adapt Engineering as a Historic Preservation Specialist conducting Section 106 review for the assessment of possible adverse effects on historic resources as a result of proposed telecommunications projects. Gunn currently serves as a Historic Preservation Specialist for Summit Solutions Group in Portland, Oregon, responsible for completing a variety of historic
preservation services including Section 106 review and compliance for proposed projects all over the Pacific Northwest.
---
Allie Taylor, MSc., – Project Archaeologist
Allie Taylor (
Allie@aquaterracrc.com
) has experience in archaeological investigations throughout the state of Washington. Allie received her Bachelor of Science in Anthropology from Central Washington University, and completed a Master of Science in Human Osteology and Funerary Archaeology from the University of Sheffield in England. She is experienced in completing the field work for private and state contracts involving phase I-III archaeological investigations, monitoring, as well as the analysis of archaeological material including historic, faunal, lithic, and human remains. Allie also is experienced in the archiving of archaeological material and the technical writing of Washington State Site Forms and assessment reports.
---
​Scott Pierson, B.A., – Project Archaeologist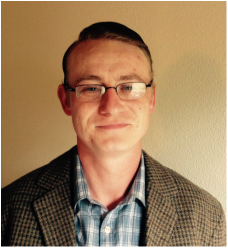 Scott (
Scott@aquaterracrc.com
) grew up in the Portland-Vancouver metropolitan area and received his bachelor's degree from Washington State University in 2007. He attended archaeological field school at Fort Vancouver National Site. ​
Scott has worked in cultural resource management on a variety of large and small scale projects for private, state, and federal agencies throughout the Pacific Northwest and Wyoming. Scott has substantial experience with historic and prehistoric material culture. In 2009, as a member of the National Park Service he performed testing and analysis for the Columbia River Crossing. From 2010-2012 he performed and supervised testing and evaluation on over 100 prehistoric sites along the Middle Columbia River and greater Columbia Plateau. More recently he had the opportunity to work with Geovisions, an enterprise of the Confederated tribes of Warm Springs, surveying over 100,000 acres in the Malheur National Forest of Eastern Oregon. He has also performed data recovery and construction monitoring on a number of prehistoric sites throughout the Pacific Northwest. His current interests include early 20th century labor history and Napoleon.
---
---
​David Treichel – Project Archaeologist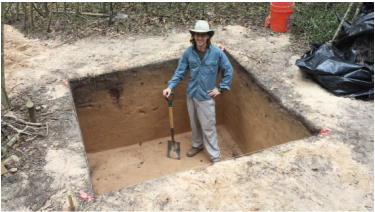 ​David Treichel serves as Field Lead at Aqua Terra Cultural Resource Consultants. He has over four years of experience working on and leading Phase I, II, and III archaeological survey and testing projects relating to the pipeline, transportation, and construction industries as well as research based projects and academic research. As an undergraduate student at Pacific Lutheran University he participated in a field school on Mt. Rainier and served as a Lithic Analyst assistant in Mexico at the Aztec site of Calixtluaca performing the preliminary analysis of the lithic collection. Projects that he has been involved with include locations in Texas, Louisiana, Mississippi, and Washington State.

His experience includes surveys, prehistoric and historic site excavations, expertise with Trimble GPS devices, ArcView GIS, and laboratory analyses. He is experienced with developing testing and mitigation strategies for NHPA eligibility assessments, archaeological data recovery, and predictive modeling. As Field Director, he has led large crews on all phases of archaeological field survey, including phase III mitigation excavations.

David has spent his career developing professional skills both in the office and in the field and is capable of creating a research designs, planning, organizing, implementing field work, and performing post-field analysis in a lab setting. He has extensive experience writing professional reports documenting the results, conclusions, and recommendations of field work. He specializes in supervising large field crews so that work is completed efficiently and on schedule, keeping all records and artifacts from the field organized for later analysis, and quickly and independently solving problems that inevitably arise during field work.
---
---
Leslie Noles, B.A., - Marketing Coordinator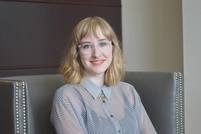 A native of Birmingham, Alabama, Leslie's (Leslie@aquaterracrc.com) interest for archaeology was piqued as a child upon visiting Moundville, an ancient Mississippian ceremonial center along the Black Warrior River. Her interest in archaeology continued throughout her academic career, and she received her Bachelor of Arts and Science in Anthropology from the University of Alabama at Birmingham in 2011. Leslie attended a field school conducted by Eastern Illinois University in partnership with the University of Louvain-la-Neuve where she learned excavation, recording and archiving techniques at the site of a medieval castle. In her studies, she focused on remote sensing and satellite imagery analysis.

Leslie combines her knowledge of archaeology with her professional experience in marketing in her role as ATCRC's Marketing Coordinator. Her areas of expertise include proposal production and digital marketing campaign management and direction.
---
---
Marcy Galloway B.A., – Field Technician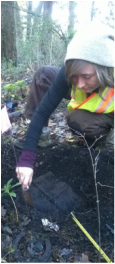 Marcy was born and raised in the Pacific Northwest. Her interest in archaeology began when she was a young girl, and her father would take her to an active prehistoric archaeological site at a Washington State Park where he worked as the park's ranger.

Marcy graduated with her dual Associate in Arts and High School Diploma in the spring of 2013, and later received her Bachelor's Degree with emphasis in Anthropology from the Evergreen State College in 2015. During the fall of 2015, she participated in a field school led by the Burke Museum in the San Juan islands, excavating a late 18th century homestead and prehistoric site. Individually, she studied the dendrochronology of the site, and identified and analyzed floral species local to the site. Marcy frequently volunteers for the Washington State Parks and Recreation Commission, cataloging and preserving historic and prehistoric artifacts from sites across Washington state.

Marcy is experienced in historic and prehistoric site excavation, survey, background research, data analysis as well as the processing, curation and analysis of artifacts in a lab setting. Her research interests include paleoethnobotany, lithic analysis, artifact illustration and evolutionary anthropology.
---